Testimonials
---
Staying on Track
Online learning lets on-campus students like Nick Snow balance school, work and extracurricular activities.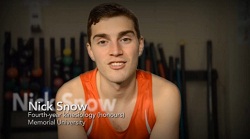 By taking online courses each semester along with on-campus courses, Nick had the flexibility needed to complete his degree and be a member of the Memorial's Sea Hawks Men's Varsity Cross-country Running Team.
Hear more from Nick and learn about online learning at Memorial.
---
Making it Work
As a working professional and Mom, online learning is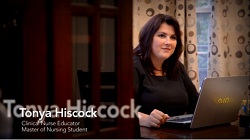 giving Tonya theconvenience she needs to balance work, life and study.Full-time registered nurse, Tonya Hiscock, is completing a master of nursing degree online with Memorial.
Watch Tonya's story and learn about online learning at Memorial.
---
Online & On-Campus
Dr. David Behm, Associate Dean, Graduate Studies and Research for the School of Human Kinetics and Recreation teaches on-campus and online at Memorial.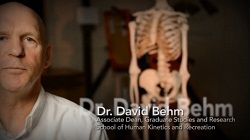 Dr. Behm, like many of Memorial's top professors who teach on campus and online, believes in the credibility of online learning for his students.
Dr. Behm explains how using technology to teach and learn online provides his students with greater access and flexibility.