Get Started with Teaching Remotely
Get started with teaching remotely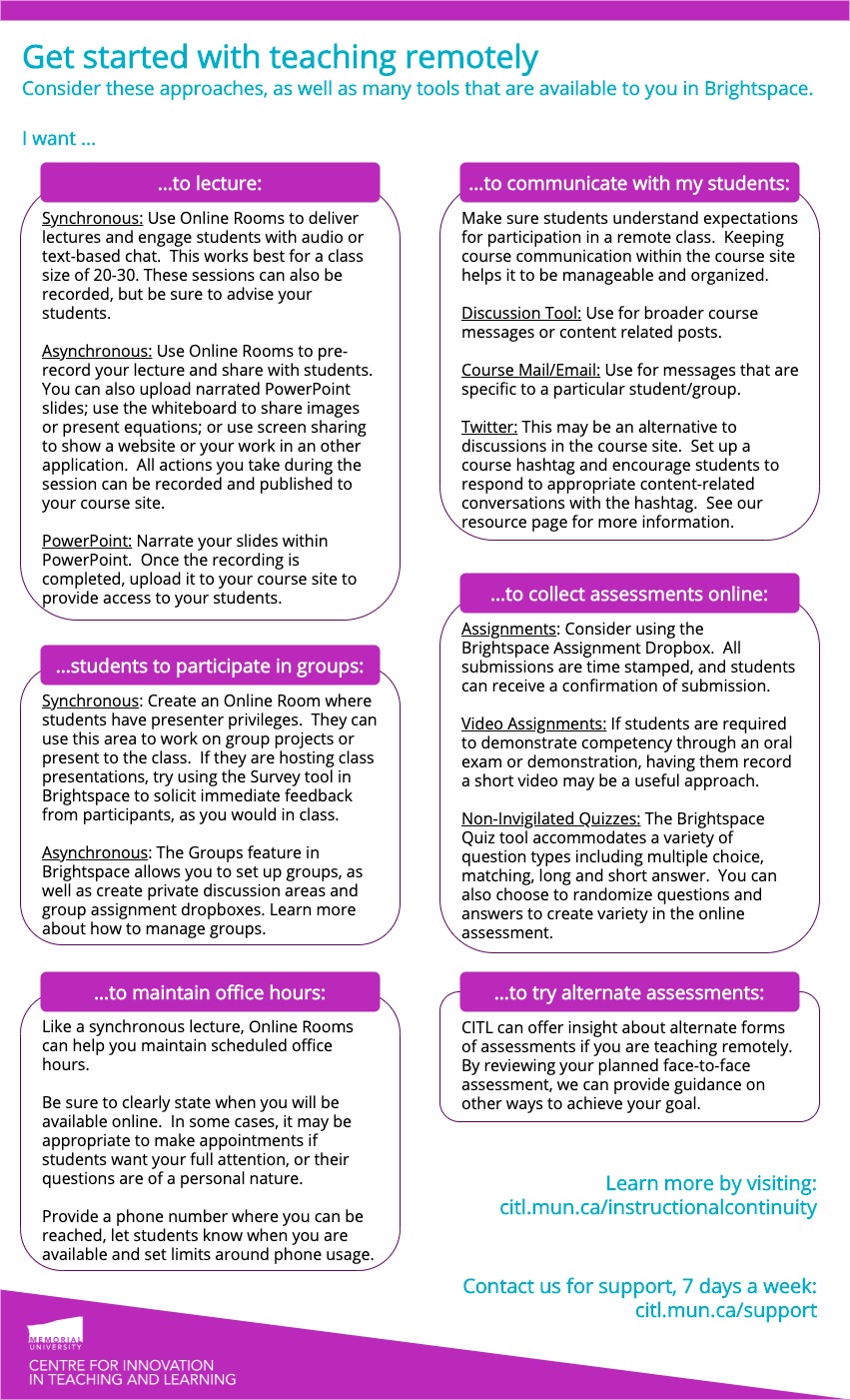 This simple guide outlines approaches to consider when you and your students can't be in the same place at the same time. The examples below focus on tools that are already in Brightspace, or approaches you may already use in your teaching practice.
All courses automatically have a Brightspace site. If you have not activated your course site(s), you can follow these instructions to do so.
---
I want to lecture online:
Synchronous
Invite your students to an Online Rooms session where you can deliver your lecture and engage with them using audio or text-based chat. This works best if your class size is 20-30 people. You can also record these synchronous sessions, but be sure to advise students that they are being recorded.
Learn more about setting up an Online Room in your course site.
If you have classes larger than the technical limitation of 50 students of Online Rooms, please see the recommended solution for lecturing a large class.
Asynchronous
Online Rooms - Record your lecture with Online Rooms and share with students in your course site. You can upload a PowerPoint presentation to Online Rooms and speak to it, use the whiteboard or share the screen for your presentation. Once the recording is completed, it will automatically be published to your course site.
PowerPoint - Narrate your slides within PowerPoint. Watch a quick video on how to do this. Once the recording is completed, upload it to your course site to provide access to your students.
I want to distribute content and resources to students:
Brightspace Content Tool - Add content directly in your Brightspace site using the content tool. Create simple webpages, upload PPTs, PDFs or other documents that your students can access through this secure site. If you don't want the students to see all the content at the same time, you can also set release conditions that are appropriate to the delivery of the material.
Course Resources (Reserves) - Create a readings list using Course Resources. This resource is linked directly to your course site. Simply send the library the items you wish to add to the reading list and students can access it directly from this tool. You can reach out to the Library for support using this tool.
I want to maintain communication with my students:
Maintaining contact with students and ensuring they understand your expectations for participation in a remote class is critical. Keeping communication about the course within the confines of the Brightspace course site helps to keep the amount of communication manageable and organized.
Discussion Tool - Use Discussions to send general messages relevant to all students in the course. When a message is posted, others in the course can view it and benefit from the comments and follow-up questions in the discussion thread.
Course Mail/Email - Use Course Mail or Email if the communication is more personal in nature. Mailing the entire class will likely result in a large number of responses that could get unmanageable, thus discussions tend to work better in these cases.
Twitter - For those experienced with using Twitter, you can consider setting up a course hashtag and encouraging your students to respond to appropriate content-related conversations there. Please note that if you go this route, your students will need to have a Twitter account and must use the course hashtag with each post to help you curate the responses.
I want to maintain online office hours:
Online Rooms - You may choose to continue your office hours while not on campus. In this case, consider using the Online Rooms tool. It's a tool all students in your class have access to by virtue of their enrolment in your course. Be sure to clearly state when you will be available online. In some cases, it may be appropriate to make appointments if students want your full attention, or their questions are of a personal nature. You do not have to record your office hours.
I want to host study or review sessions:
You or your TA can host review sessions within Online Rooms. Using the application share function, you can present examples, work through web resources or answer questions in preparation for an exam or assignment. These sessions can be recorded and shared if it creates a valuable learning resource.
I want to collect assessments online:
Assignments - If you and/or your students can't come to campus to submit their work, consider using the Assignment Dropbox in Brightspace. All submissions are date stamped and students automatically receive confirmation of their submission for their records. You can download the assignments to mark offline and return with feedback. Or you can use the online annotation grading tool that allows you to mark up and provide feedback on submitted work. Read more information about this feature, or contact CITL for help.
Release restrictions for Assignments - There are a number of parameters you can set for your assignment submission folder. For example, you can place timelines for availability, align access with the completion of other work in the course, or to release to specific users. Reach out to CITL if you want to learn more about release conditions can be set-up for your assignments.
Video Assignment - If students are required to demonstrate competency through an oral exam or demonstration, having them record a short video may be a useful approach. While students are quite adept at creating and sharing videos, it's important to provide explicit instruction as to what you expect as a suitable submission. The Video Assignment tool is a feature of Online Rooms that is available within Brightspace, and allows the creation of videos without any specialized software. Read more information about Video Assignment.
Non-Invigilated Quizzes - If you offer paper-based quizzes in class, you can offer them remotely using the Quiz tool within Brightspace. The tool allows variety in question format including multiple choice, matching, long and short answer. You can also choose to randomize questions and answers to create variety in the online assessment. If your course textbook comes with electronic publisher resources such as a test bank, you can also import these and use them to build your quizzes.
Similar to an assignment, the quiz can be set-up with time and access restrictions, which will require your students to complete them within a prescribed period of time or date range. Read more information about the Quiz tool, or contact CITL for help.
I want my students to participate in group work:
Presentations - Similar to hosting a synchronous session with your students, you can provide students with presenter privileges in Online Rooms so they can host planned presentations with the class. You can use the Survey tool within Brightspace to solicit immediate feedback from participants on the presentation, as you would in class.
Groups and Discussions - Brightspace allows you to set up groups, as well as private discussion areas and group assignment dropboxes. Learn more about how to manage groups in Brightspace.
I want to try alternate forms of assessment:
CITL's instructional designers and educational developers can offer insight about alternate forms of assessment if you are teaching remotely. By reviewing your planned face-to-face assessment, we can provide guidance on other ways to achieve your assessment goal. If you are interested in learning more, please contact our Support Centre to request a consultation on assessment strategies. This Faculty Focus article may also provide some insightful suggestions for consideration.
I want to consider accessibility guidelines:
Memorial's Blundon Centre encourages using this resource to consider accessibility guidelines when preparing for remote teaching and learning.
When recording video or audio for students, also consider creating transcripts to ensure they are accessible and adhere to good universal design principles.
I want to lecture to a large class:
Generally, Online Rooms is the preferred tool to host synchronous sessions as it is integrated with Brightspace, requires no additional accounts and setup, and is an online classroom environment with additional tools and features. However, Memorial's Information Technology Services (ITS) has made a limited number of licenses available for WebEx - an online tool for synchronous sessions that have more than 50 students and do not need the additional features of an online classroom. Learn more.
I want to solicit feedback from students:
In the absence of the Course Evaluation Questionnaire (CEQ), instructors have an option for getting anonymous feedback from students about their learning experience by using the Brightspace Survey tool. Learn more.