Call for nominations
Feb 13th, 2017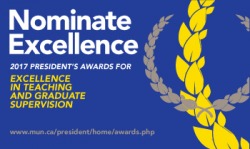 Call for nominations
Nominations for the 2017 President's Awards for Excellence in Teaching, Graduate and Postgraduate Supervision are now being accepted.
The award categories include the President's Award for Distinguished Teaching, the President's Award for Outstanding Teaching (one category for faculty members; one category for lecturers and instructional staff) and the President's Award for Outstanding Graduate and Postgraduate Supervision. Faculty members, staff and students at any of Memorial's campuses are encouraged to nominate a deserving and eligible candidate.
The 2017 nomination deadlines for all four awards run March 15-17.
Find out more about specific deadlines for each award, including eligibility, nomination and application requirements.