Rob Wells: CITL's new interim director
Aug 24th, 2016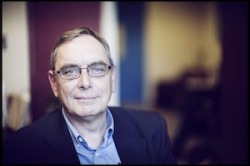 Rob Wells: CITL's new interim director
Robert Wells has been appointed interim director for the Centre for Innovation in Teaching and Learning (CITL), effective Aug. 1, until a search is completed to select a replacement.
Having served as associate director of CITL since 2007, Rob has spent the last nine years leading the design and technical operations of our department - including course design, media services, classroom technologies and technical systems. He also leads our international outreach initiatives, and has developed ongoing relationships with partners across the globe.
From 2011-2012, Rob was appointed acting director of CITL and from 2012-2015 held the role of interim director of Harlow Campus. He also contributes to a number of university-wide initiatives at Memorial, including:
Chair of the Technical Advisory Committee for the Identity and Access Management (IAM) program

Co-chair of the University Council on International Affairs – Harlow and European Outreach

Member of the Expert Working Group on Public Engagement.
Additionally, Rob is currently chair of the Advisory Committee for the Canadian Virtual University.